Hello Tiger Band Alumni,
We are so excited to welcome you back to campus for the 2019 LSU TIGER BAND REUNION!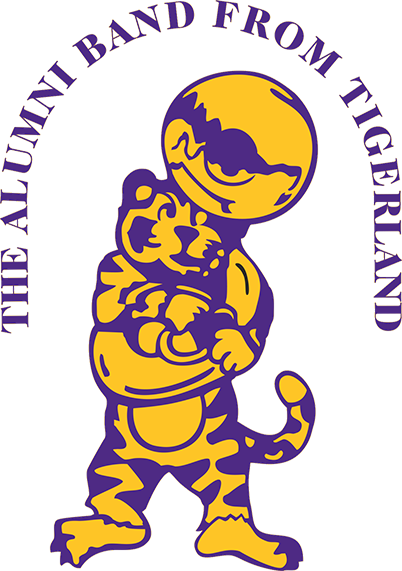 We are also excited to WELCOME Dr. Linda Moorhouse back to campus for this year's event!! She and Dr. Wickes will conduct the band at halftime and be around the entire weekend for the festivities. And, we will have the Alumni Band incorporated into the DRILL for the halftime show as we did last year to such great success.
LSU Athletics and the Band Department have once again worked with the LSU Alumni Association to secure a block of seats in the lower section, where the visiting band normally sits, so that the Alumni Band can play in the stands during the game!
The Alumni Band will participate in the Saturday morning rehearsal at the New Tiger Band Hall (practice field) to run through all of the in-game tunes and cheers. After a short break, you are invited to a Pre-game Tailgate Party in the Maravich Assembly Center with a new catering company. For those of you who are interested, you will once again be able to join Tiger Band to walk "down the hill." You must have the 2018 Gold polo uniform shirt (Tuba Tiger logo same as above).
This year marks the 60th Anniversary of the Golden Girls, with special recognition for this time honored tradition. We are expecting record numbers of returning members and are excited to help celebrate this wonderful event.
We will once again host Tigerama at the LSU Union Theater on the evening of Friday, October 4th. More details can be found on the LSU Bands website as they become available. Also on Friday evening, an alumni band social will be held at the LSU Faculty Club for any and all Tiger Band alumni and their families to join together and reminisce before the big day. Packet pickup will be held during that time as well, so we hope you will enjoy a full evening as a Tiger Band family.
We look forward to seeing you in October!
COMPLETE THE FORM BELOW TO REGISTER FOR THE LSUAA BAND REUNION.
**EACH PARTICIPANT MUST FILL OUT THIS FORM TO PARTICIPATE IN THE REUNION.
If you have any questions, please contact Brandli Greer at 225.578.3838
For Golden Girl uniform information contact lsugoldengirls2019@gmail.com